A Note to Nonprofits:
Why Are Greeting Cards So Important?
The Secret to Capturing Money Normally Spent on Presents
Nonprofits, want to capture some of the $450 billion Americans spend on presents each year?
You need to make a donation, given in a friend's name, feel like a gift. Here is one thing you need.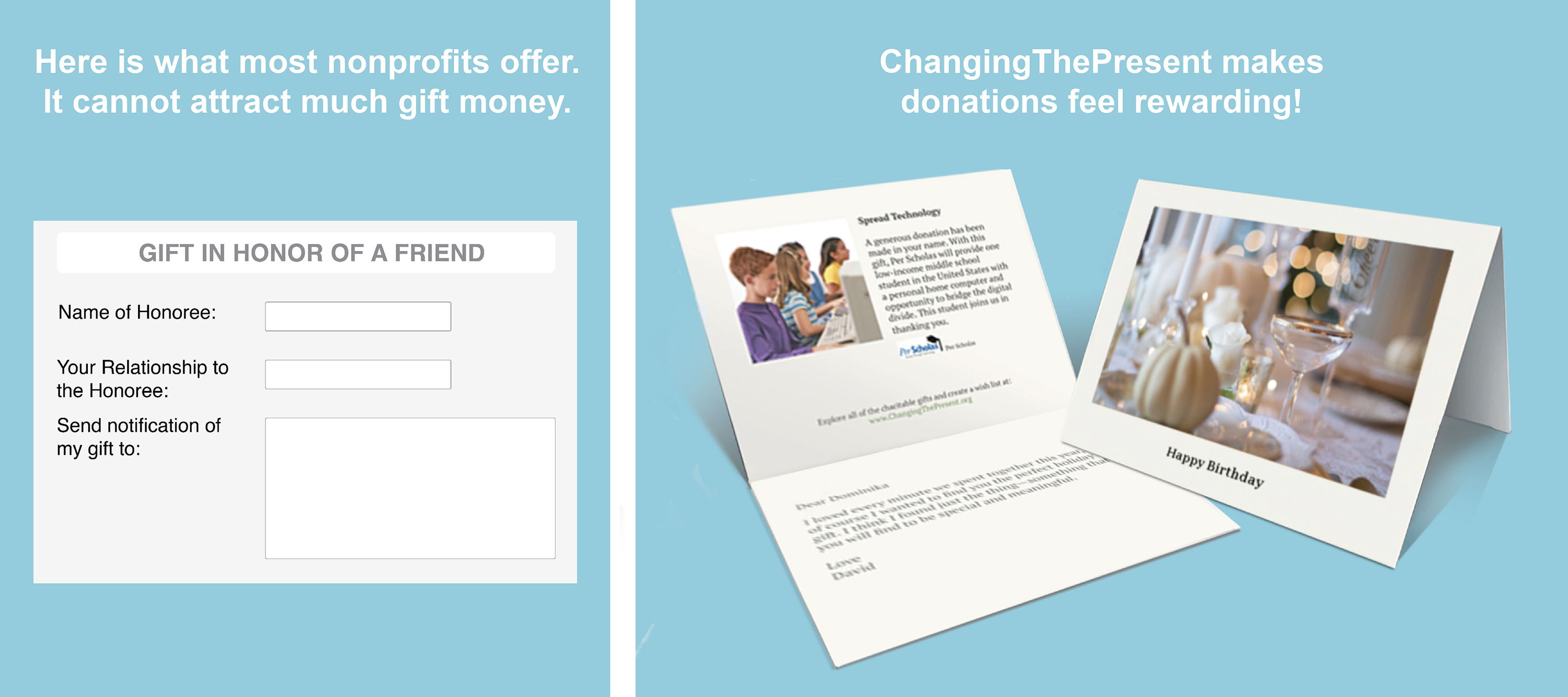 Greeting Cards are Essential
People want to give greeting cards, and they want to receive them. Indeed, cards are so important that Americans give seven billion of them every year.
Most nonprofits just offer to send the honoree an email or letter; that does not feel like a gift to anyone, and it cannot capture much of that $450 billion.
People Want Personalized Cards
Further, people want just the right card for each recipient and each occasion. After all, they wouldn't give the same card to their grandmother and their son.
Multi-billion dollar pharmacies know this (just look at the very long aisles of expensive real estate they dedicate to provide people the choice they want), yet the few nonprofits that do provide cards generally offer no choice.
Our Cards Help Attract Donations
Beautiful, personalized printed greeting cards from ChangingThePresent help attract donations. They make the donation, given in a friend's name, feel like a truly memorable and rewarding gift.
Their friend will see the cover image and caption chosen just for them.
A photo and description will delight them with exactly what was done to make the world a better place (an acre of the rain forest, an hour of cancer research, or whatever you offer).
And, of course, a personal message lets the giver share their feelings.
Now, that feels like a gift! And that card—along with tangible charitable gifts, wish lists, and registries—is how you can attract money normally spent on presents.
This overview shows how your nonprofit can capture funds normally spent on presents, or sign up now at no cost.