Nonprofit Registration Instructions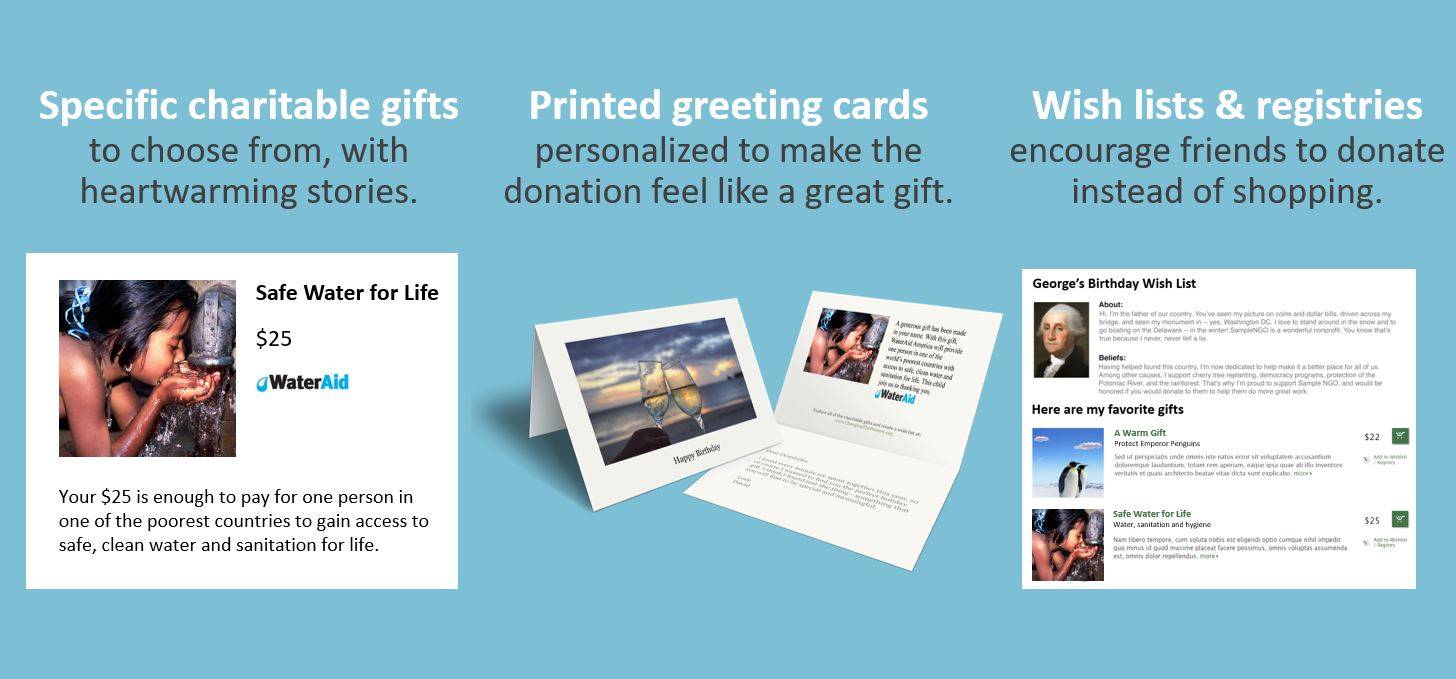 Welcome!
Your nonprofit, school, or school classroom / team / band will soon be able to start capturing some of the $450 billion Americans spend each year on birthday, wedding, and holiday presents. In case you missed it, here is an overview of the opportunity.  
Please see the easy instructions.
If you are a nonprofit: scroll down.

If you are a school, PTA/PTO,

teacher, coach, or band leader: click here.
---
Here is a quick overview of the easy registration process for nonprofits:
1.
Register and submit info about your nonprofit at our nonprofit portal. Please refer to these instructions on registering.
2.
Create Charitable Gifts at the nonprofit portal. You can do this as soon as we approve your registration (it may take a day or two). It is important that you refer to the instructions below as you do.
3.
Go Live. We will notify you when your content is live. It may take a day or two.
4.
Return Later. You can always return to the nonprofit portal to update your info, add gifts, and see financial reports.
If you have questions or need any help, just send a note to the email at the bottom of this page.
---
---
Instructions for Registration Form
When you return to add gifts, please review these gift instructions.
The following fields appear on the registration form. You will later find this under PROFILE in the nonprofit portal.
Primary Contact First Name:
Primary Contact Last Name:
This will be our main contact at your organization.
Name of nonprofit (as you want it displayed):
This is the way your organization will be displayed on our site.
Alphanumeric characters only (sorry, Kaboom!).

Do not alphabetize the entire name, unless it is an acronym. Just the first letter of each word.

We cannot have multiple nonprofits with the same name, so if your organization has a common name (such as "First Baptist Church"), please add a location to distinguish it from others (for instance, "First Baptist Church of Miami"). You can see the names of the organizations currently on ChangingThePresent.org here.

If you are known both by your organization name and abbreviation, so people might look up either, combine them like this: Wonderful Organization Of Fidos (WOOF).
Primary Contact email:
Set password:
Official name of nonprofit:
This should be the official name of the organization as it appears on your tax letter and in your Guidestar.org listing
Main org email:
EIN of nonprofit:
URL of your nonprofit website:
URL of your nonprofit's page on Guidestar.org: (for nonprofits only)
The URL of your page on Guidestar will look be in a format like this:
https://www.guidestar.org/profile/22-2222222
If you do not have a Guidestar listing, you can proceed with registration here, but will need to register with them before we send your first grant.
NCES ID Number: (for K-12 schools only)
Address - Street 1:
Address - Street 2:
City:
State:
Zip:
Country:

Phone:

Secondary Contact First Name:
Secondary Contact Last Name:
Secondary Contact email:
In case we cannot reach the primary contact.

Logo Image URL:
The image should be at least 300 pixels wide.

It should not have excessive white space around it, since that will reduce the size of the visible image. If you need to crop it and do not have photo editing software/skills, you will find that PicMonkey.com or Canva.com, which are free online photo editing tools, make it easy.

Our platform will only display images that are from a secure https website. If your logo is not on a website that begins with https://, then please upload it to a secure site such as Facebook or Flickr, and provide the image source URL from there.

Need instructions on how to get an image source URL? See these step-by-step instructions for every browser.
Organization Description
Information about your organization will be displayed on a page akin to this page for First Book. The overview, mission, program, etc. are one long field of text, but we make them appear in separate tabs so as not to push the gifts too far down the page.
Please follow these instructions carefully to make certain that your organization's info is displayed correctly:
https://docs.google.com/spreadsheets/d/1AyUk5fM_qa7H3J9_kq42ZzEsuZP5lKcjzZ5GEDhrhmE 
Paypal
We cannot remove the label from this default field, although we were able to hide the field. Please ignore it.
Payment 
We send monthly payments to nonprofits and schools via ACH, which deposits the funds directly into your organization's bank account. Please provide the following information:
Bank Routing number

Organization's Exact Name as it appears on the bank account  

Bank Account number
Here are instructions for these three fields. If you do not have that information now, you can return to the nonprofit portal and provide it later. Be sure this information is accurate, and be sure to update it if you change your bank account to avoid bank fees.

Receive Email when donation is made:
We recommend you check this box so you will receive an email each time you receive a donation.  
Accept the Terms and Conditions
Submit:
Be sure to hit the submit button! Remember, you can return and update info later.
---
Once you have completed the above registration, please send us the following:

Please email these files to nonprofits [AT] ChangingThePresent [DOT] org:
Proof of Nonprofit Status
f your organization is a 501(c)(3) nonprofit, please send:
your tax letter as a pdf file
If your organization has a 501(c)(3) nonprofit serving as its fiscal sponsor, please send:
the fiscal sponsor's tax letter as a pdf file, and

a letter from the fiscal sponsor, confirming the relationship
Logo
Please send your logo (yes, the same one you uploaded above. This saves us a lot of time so we can process you faster).
Please save these files with names that are structured by combining:
the name of your organziation AND its EIN AND a description identifying the document, like this:
Wildlife Advocates (33-3333333) tax letter.pdf

Environmental Alliance (12-3456789) fiscal sponsor letter.pdf

Environmental Alliance (12-3456789) logo.jpg
---
We will notify you when your account is ready so that you can then upload your charitable gifts. Depending on our work load, it may take a few days.
Thank you very much!
---
Need help? We are here for you. Just send a note to the email address shown below.