Invitation for Famous Dogs And Owners
Join and be featured in our campaign.
See the slideshow and instructions below.
1. Create a Wish List
Join the site. Create a Wish List like this sample.
2. Add gift items to your Wish List
Add our animal welfare gifts, or add a gift to support any nonprofit. If you want to support a nonprofit, school, or teacher that does not yet have gifts on the site, be sure to provide their name, URL, and address for those who may not know.
3. Share
Send the invitation below to dog-lovers, veterinarians, animal welfare and rescue organizations, and anyone who may want to help.  

Encourage nonprofits, schools, and teachers to create their own wish lists.

Display our banners.

Let us know when your wish list is up, so we can feature you. Just email influencers [AT] ChangingThePresent [DOT] org.
Please Send This Invitation
 
Hello ______
I just discovered an exciting nonprofit website, www.ChangingThePresent.org. It lets anyone give the gift of a donation in their friend's name, and a personalized greeting card makes it especially memorable. This is so much more more meaningful than another pair of fuzzy slippers! It is even tax-deductible.
You can support any nonprofit, school, or teacher. Yes, you can support your favorite animal welfare or rescue organization!
Here are two great ways to use the site to make a difference:
Give the gift of a donation in a friend's name, in lieu of buying traditional presents.

Create a wish list and ask people to donate instead of buying you presents that you may not want.
You can see my wish list at [add the URL of your wish list here].
Please share this with others who may want to help.
Thank you very much!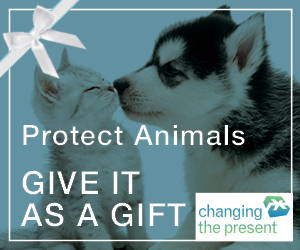 Be sure to display our banners. See all sizes here.